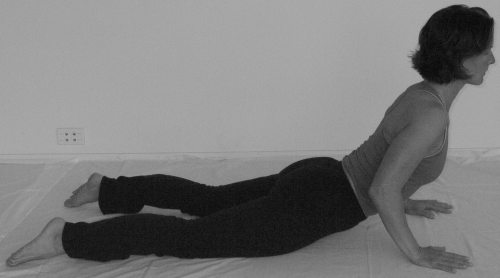 Starting position.
Flat on your stomach, legs, back and neck long.
Shift hands to the side of the rib cage, tuck the elbows in, shoulder blades down.
Inhale.
Upon exhalation, shift your gaze and then your ribcage towards the wall in front of you, rolling the spine up slowly.
Exert a little pressure through your forearms.
Do not go into pain!
Start with small movements and gradually increase the amount of spine you roll of the floor.
Keep the hips on the floor to begin with.
Roll up and down 5-10 times, then hold.
Warm Up: 20 seconds
Main Stretch: 30 to 40 seconds
B212